Since 2015, Averda has worked across the municipalities of Brazzaville, Oyo and Pointe Norire in Congo. We serve communities with daily refuse collection to ensure that businesses have access to regular waste services and residential neighbourhoods are kept litter free.
The challenge
The importance of disposing of waste properly and keeping your neighbourhood clean is not well understood in some neighbourhoods that Averda serve. Working with local municipalities, Averda wanted to help educate communities about appropriate waste management and recycling. The challenge was to determine how best to engage and the community with waste management and recycling messaging, keeping in mind that approximately 40% of the population is under 14.
The solution
Averda worked with a local Congolese artist to develop an engaging educational campaign developed around two cartoon characters, a schoolboy named Glad and his blue dog Vad. The cheeky cartoon duo aimed to teach children the importance of binning rubbish properly and keeping their neighbourhood clean.
Averda representatives, accompanied by life-sized Glad and Vad mascots, visited schools throughout the municipalities where Averda operates, educating children on effective waste management and recycling. The cartoon video of Glad and Vad was shown on the school visits.
The results
The cartoon duo became an instant hit, and in many communities the characters became household names. In 2018, Averda representatives and the mascots visited 42 schools, distributed 12,905 Glad and Vad comic books with waste management and recycling messaging, and engaged directly with 20,341 children.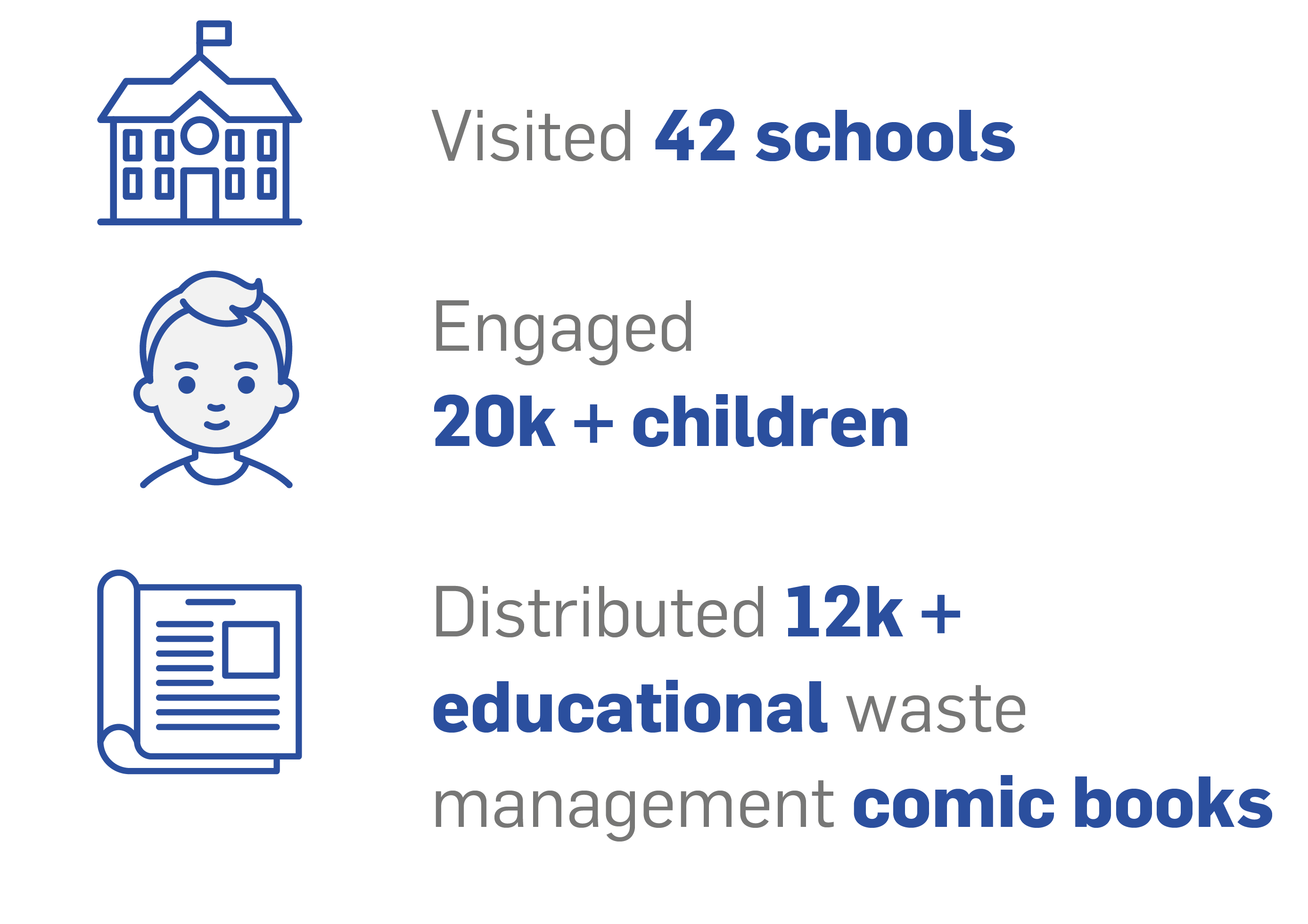 Adapting the campaign for Covid & new markets
In 2020 when Covid threatened communities around the world, Averda repurposed Glad and Vad with new health-protection messages focused on hygiene and social distancing. In addition, versions were made in languages from Arabic to Zulu and distributed across Averda's markets, including regular spots on local television. Culturally appropriate adapted versions of the cartoons were developed for use in our GCC markets where the canine character was replaced by a pet cat, demonstrating Averda's sensitivity to cultural norms among the populations where we work.
Ask for your quote today