Red Sea Global
Red Sea Global is a global multi-project developer focused on sustainable and responsible development. They are the developer behind 'The Red Sea' a brand-new luxury regenerative tourism destination along the west coast of Saudi Arabia that will open in 2023.
Phase one of the project will see the construction of 16 luxury hotels across five islands and two inland resorts, providing more than 3,000 hotel rooms. The project will also include a new international airport, a yacht marina, leisure and lifestyle facilities, as well as supporting logistics and utilities infrastructure, including more than 80km of new roads.
The challenge
A development of this magnitude will generate thousands of tonnes of construction and demolition waste. Red Sea Global require that all the waste generated during the construction phase of the project must be minimised and managed sustainably, with zero waste going to landfill. In addition, tens of thousands of workers are required to live on site to construct this development. All the waste generated by the workers needs to be sustainably managed to ensure a zero-waste-to-landfill solution.
The solution
Using special machinery, Averda transforms construction and demolition waste into small particles. These particles are reused to create aggregate for building roads.
All the waste that is generated on site is separated at source. Averda's recycling bins are located across the complex, and recyclables undergo further manual sorting before being baled to maximise the recycling of items such as plastics, paper, glass and cans.
Organic material, including food waste, is turned to compost to create nutrient-rich soil for the dedicated million-square metre nursery that was built for the project.
Only a proportion of non-recyclable, non-compostable materials remain after these processes. To avoid landfill, this residual waste is incinerated in special, environmentally sensitive facility, and the particles and carbon generated is captured. Even the small amount of ash generated from incineration is used to make bricks.
To ensure the smooth running of our services, Averda has a full-time dedicated team based onsite to effectively deal with any issue that may that arise. The team is trained to deliver sustainable waste management solutions that meets the highest international standards.
The efficient use of transport for waste collection is achieved using dedicated local delivery system control software for vehicles.
We accurately report the amount of each waste type collected and recycled to Red Sea Global monthly.
The results
Averda has implemented a zero-waste-to-landfill solution for phase one of the Red Sea Global's luxury tourism development at the Red Sea. This includes waste sorting, segregation and management of general waste and recyclable waste streams.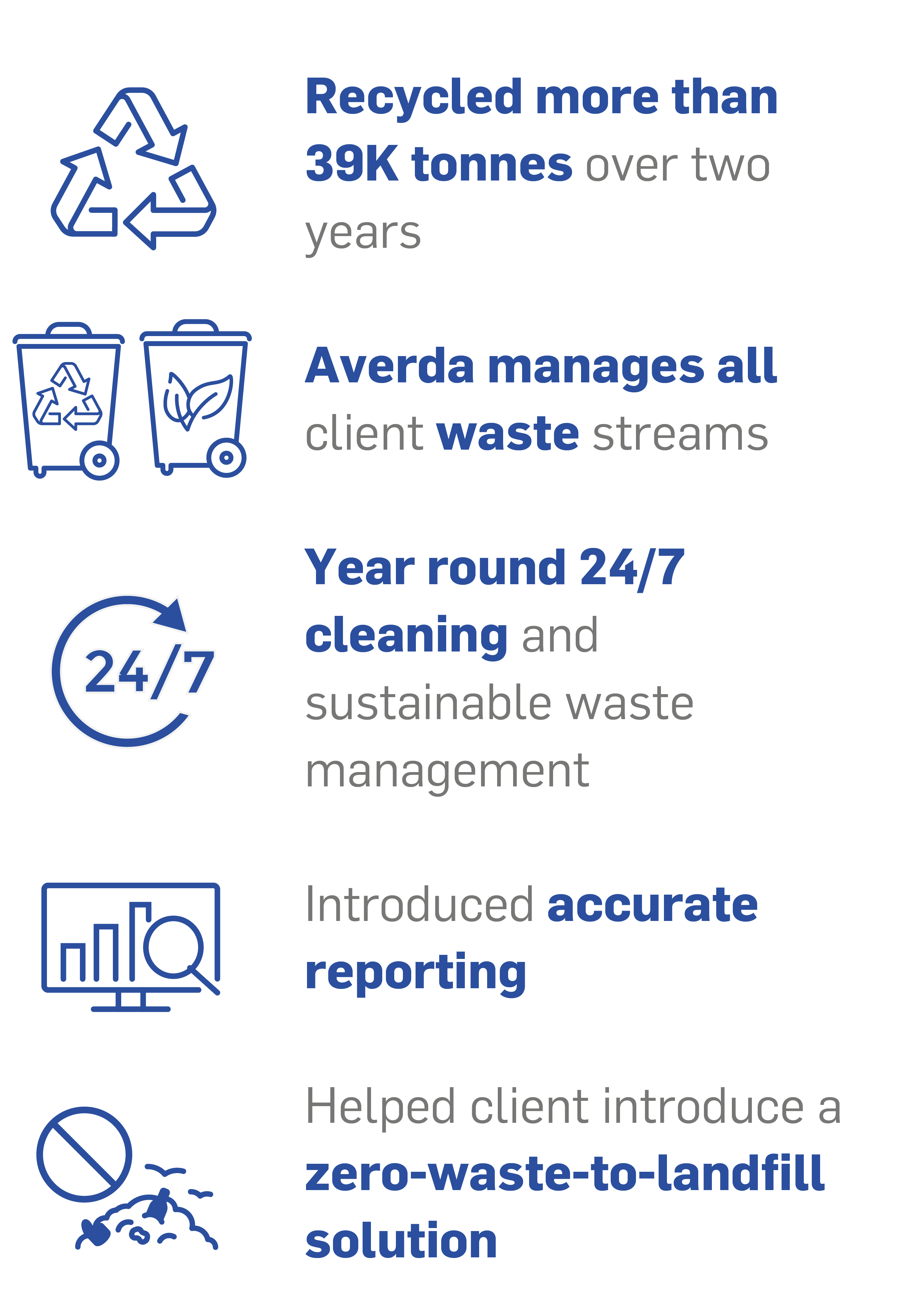 Ask for your quote today