If applied correctly, the circular economy can help companies get much more value out of the energy resources, materials and other primary sources they use, thus deploying that additional value to optimise their services, contribute to their clients' return on investment and promote clear sustainable practices in the communities they operate.
Three billion new middle-class consumers driving resource demand will enter the global market by 2030 – without an appropriate rationalization of resources and a conscious effort from governments, public services and private companies, the resource demand forecasted by McKinsey's in their latest Circular Economy Report will become unsustainable.
Being the largest waste management service provider in the GCC region, Averda is fully aware of the redundancies present in regional economies which often lead to resource-waste and create negative externalities. It is therefore fitting that governments across the world and their stakeholders are beginning to mobilize to urge private and public companies to change their ways of working, to optimise their value chain, to reduce consumption waste and maximize the output of waste management streams.
Averda firmly believes that waste management companies across the globe, large and small, have an ethical duty to be the first ones who embrace the circular economy principles and demonstrate how they apply them and what particular steps they take to ensure that all their stakeholders, internal and external, are aware of the efforts made in this regard.
Present in Qatar since 2009 and operating across the entire country, Averda's activities have demonstrated the full embedding of its corporate values of 'deliver, care, inspire", by launching an automated paperless system that is used by 99% of the company's Qatari SME portfolio and, also, by a significant number of its larger clients in Qatar.
Averda's paperless system covers information capture and dissemination, order generation and invoicing. Currently Averda is offering its customers invoices along with delivery orders with proof-of-services in e-mail format as opposed to the previously paper-based approach. The electronic data is captured in multiple enterprise business systems and made available to its clients in contract, order and invoice form, and it is communicated only electronically.
In terms of scale, Averda Qatar issues in excess of 9,800 delivery orders and 700 invoices per month. Taking into account that out of one tree 16.67 reams of paper or 8,333.3 paper sheets can be made, Averda Qatar is now able to have a further direct positive impact on the environment by saving at least one tree per month from being cut down and thus enforcing the principles of the circular economy right where they should be applied – at the resource optimisation level.
According to the latest 'UNDP and Climate Change' Report, the Arab States region is home to 5 of the top 10 countries most at risk from the impacts of climate change, several of the region's major cities being located in low-lying coastal areas. Considering their coastal area location, a sea level rise of 0.5 m could displace 2 to 4 million people by 2050 and how fast the GCC countries can pre-empt such catastrophic potential events is not solely reliant on the national governments of the region but on the companies who perform their activities there, too.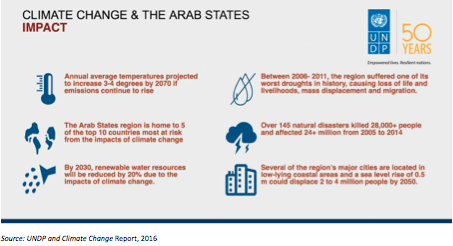 The circular economy should be seen as a value-creation driver as opposed to an investment or image builder. The waste management operators have a duty to raise the awareness of waste and resource minimisation to their employees, suppliers, clients and all other stakeholders, in order to drive a significant change in how resource optimisation and service/product efficiency are perceived. Water is, in some regions of the world, more expensive than peak oil was and the positive changes we can all make need to start at ground O, at how we can optimise our activities and have a smaller environmental footprint.